Hi everyone,
This year has been indeed a special one! For some of us it was a quite negative year, but for others it has entirely changed their lifes in many ways. When I resume my year, it was a year full of inspiration, new connections, friendships and chances. I thought this is something that could help other people as well to give you some insights into my year – welcome to my year of Windows Virtual Desktop!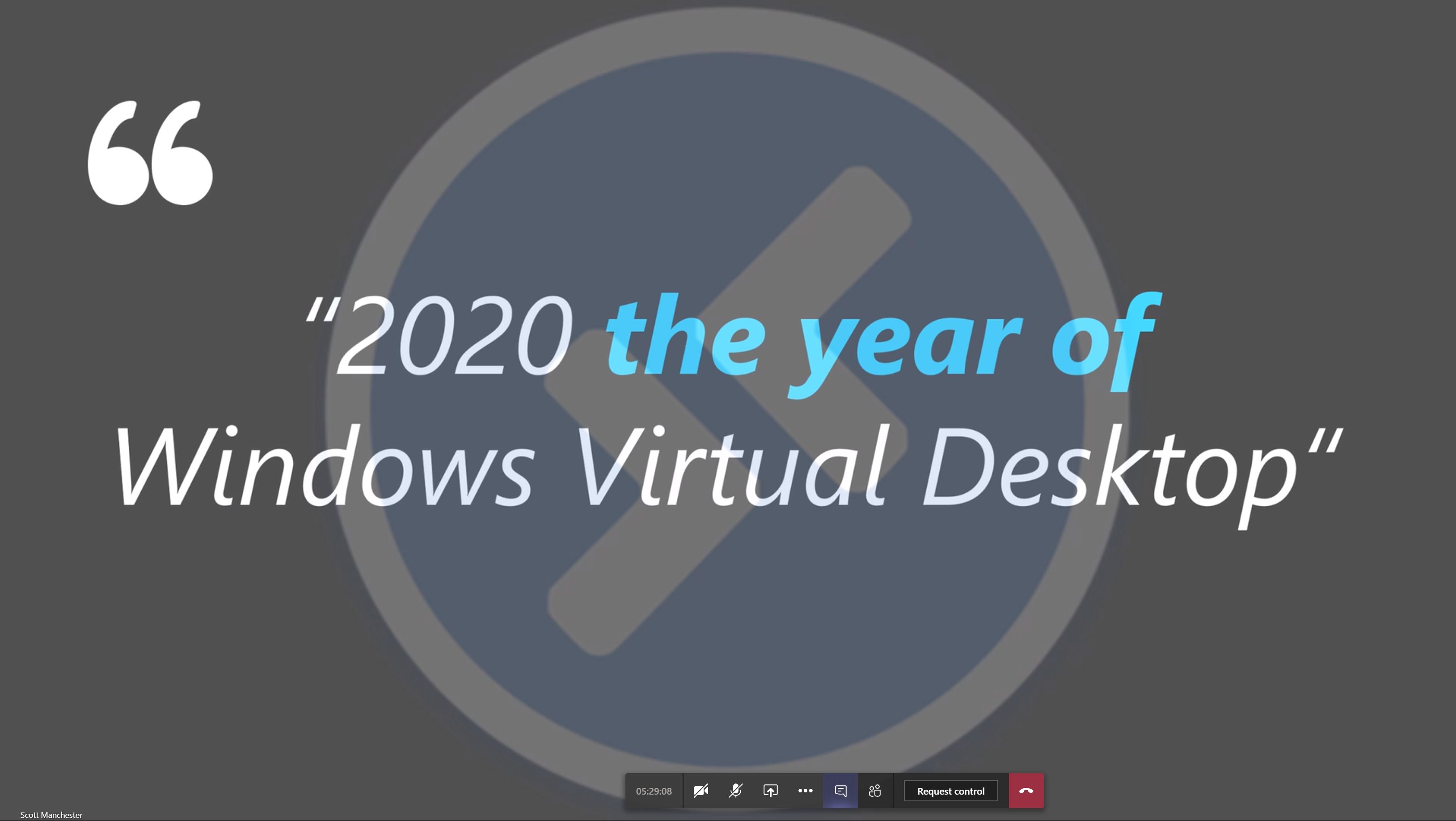 The kickstarter
It all has to start somewhere right? And for me, this was the beginning of the year. Before, most people know me speaking in local communities, mentoring colleagues to achieve their personal and business goals and that was really exciting for me. One day, a colleague of mine asked me, why I didn't think larger and share my knowledge outside the little Luxembourg.
In the beginning, I was unsure, as I never wrote any blogs myself or shared something within larger communities so I decided to start with a few blog posts about a technology I was passionate about since September last year. You might guess it, I'm talking about Windows Virtual Desktop.

The day came and it was exactly the 15.03.2020 when I shared my very first article about Windows Virtual Desktop on LinkedIn. It had the title:
The modern workplace in times of Corona Virus – Part 1 – Windows Virtual Desktop | WVDLOGIX – Windows Virtual Desktop and FSLogix Blog
This article made everything change and was actually part 1 of a series of 3, where I presented the community with the general features and especially the user experience while using WVD. At this time we were still talking about the "Fall" version (a spring update has been announced end of April).
The response was awesome so I thought two more articles would be good to see if it's worth starting an own blog and so I did every Sunday the coming weeks.
The articles:
The modern workplace in times of Corona Virus – Part 2 – Golden Image creation | WVDLOGIX – Windows Virtual Desktop and FSLogix Blog
The modern workplace in times of Corona Virus – Part 3 – Management Interfaces | WVDLOGIX – Windows Virtual Desktop and FSLogix Blog
The response was the same, so many people started to connect with me, challenged me with questions that should make me become an expert in WVD.
But lets have a look at WVD at this time.
Most of you today know this version of WVD the "Fall" or "Classic" version. You had to grant consent to your tenant before you were able to enroll Windows Virtual Desktop in your environment and you had to manage nearly every resource via Powershell. Luckily, you were able to enroll in a Web App to help you manage your "Tenants" – "HostPools" and "Session Hosts". This was awesome at a time, especially, when customers/users were not that familiar with the Powershell itself.
This should change in April 2020, when there was a sneak peek released of how Windows Virtual Desktop (at this time called Spring Release) is looking like. The direct integration into the Azure Portal in combination with adding Security Groups instead of single users was simplifying the administrative access even more!
Other enhancements, like the Microsoft Teams A/V Redirect for WVD, helped clients to enroll WVD even faster into production, which helped a lot in selling the product from the business perspective.
Speaking and Sharing
Something I was always extremely passionate about is speaking. Sharing knowledge with people that want to know, what makes you passionate about what you do is something, I've loved, but wasn't really showing it to a wider community, because I thought that there are so many awesome speakers out there, who needs another guy telling them something about technology – it turned out that my thinking in 2019 was the worst I ever had.
I decided to change that, immediately, being self confident in what I do, so I submitted sessions for the M365 Virtual Marathon and the UK Citrix User Group and see what has happened – both sessions got accepted:
…and finally I had to say it was an awesome feeling for me to speak!
Besides the attention you get while speaking, other people from the community might notice you and contact you and this was one of the most valuable moments this year. I've got in touch with Neil McLoughlin, who's leading the WVD Community.
We had a chat for a while and then decided to do a podcast episode together:
Friendships and Community
The podcast episode was just the beginning of a super exciting ride through the year.
Neil and Stefan gave me the chance to join the WVD Community team, to help building the community and share the passion throughout all channels we've established.
Since that time we released:
9 more podcast episodes with awesome people, I've probably never met if I didn't met Neil and Stefan!
30 more weekly newsletters!
An own events page to share community sessions with the wider community
And most important, the kickstart for all worldwide WVD user groups! Now we have 14 worldwide user groups in place, one of them is the German WVD User Group, which I'm organizing together with Marcel Meurer, the creator of the worldwide known WVD Admin tool! If you don't know it, please find the link to download it right away, it will definitely help to simplify the deployment. WVD Admin – A native administration Gui for Windows Virtual Desktop | ITProCloud Blog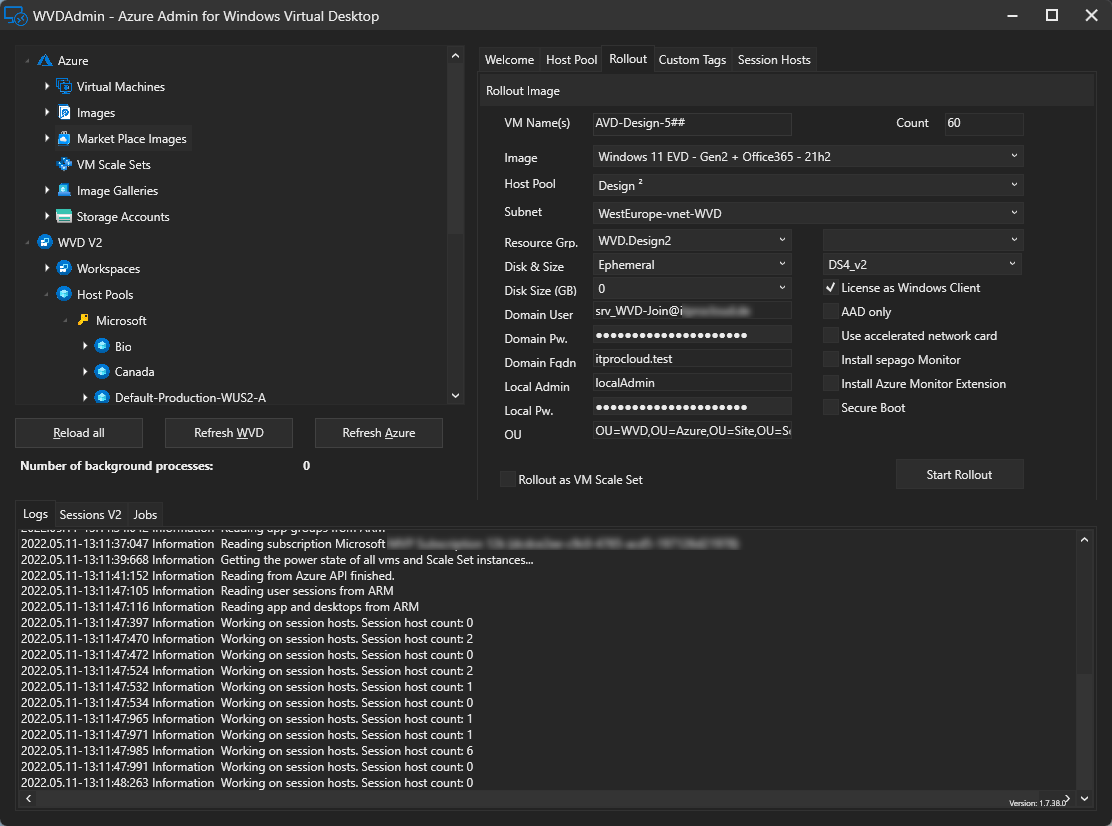 Since we started that road together, we had 5 very successful meetups, with more than 240 participants and an awesome guest speaker line-up such as Simon Binder, Christoph Hammer, Ryan Mangan etc.
But from all that connections I have to say that there was one thing, which I would call my highlight of the year. A dream that came true for me was to host my own event and providing valuable knowledge from the best speakers out there to the community – so the WVD Tech Fest 2021 was born!
But stop, I would have never been able to do this alone, and without Simon Binder, this wouldn't be possible! Something that started as a mentorship, helping me to be more self-confident turned into a friendship and I can just say more than a huge THANK YOU SIMON – for empowering me to show my best side every day!
When I see this line up I still get nervous, because this is something I ever dreamed of! And as you can see, the names speak really for themselves!
Make sure you register up for the 25.02.2021 – we promise you this will be an awesome event!
The end of the year
But that was not all, in December 2020 there was my personal speaking highlight of the year. Being invited by Christiaan Brinkhoff, to speak at the Microsoft Meets Community event on 11.12.2020 was really one of the largest events I ever spoke (2000 registrants and approx. 1000 live attendees) at, and hopefully, this was a session that shows you, what you can achieve with the new ways MSIX App Attach has for you!
If I resume, I have spoken at 12 conferences and 5 user groups in 2020 – I was speechless while counting 😀
If you missed this recording, please find it here:
With that said, I hope you can see what you're able to achieve, if you believe in yourself, go out there and open up your mouth! Don't expect something in return, like this you will find the true value of community – connection and friendships!
This is my lessons learned for 2020!
As there is a huge list of person I want to thank, I just highlight those, that had a huge impact on me – THANK YOU!
Simon Binder, Neil McLoughlin, Stefan Dingemanse, Marcel Meurer, Christiaan Brinkhoff, Tom Hickling and many many more!
I wish all of you and your families a nice Christmas fest and let's rock 2021 even more!
Cheers,
Patrick